WCU 125th Anniversary!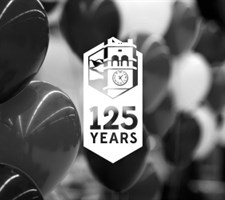 Western Carolina University was founded 125 years ago to bring education and career opportunities to Western North Carolina. Since their humble beginnings as a one-room schoolhouse serving 18 students, Western Carolina has grown in size and scope, today providing higher education to more than 10,000 students and inspiring them – and the region they serve – to reach new heights.
The towns of Dillsboro and Sylva are also celebrating their 125th anniversaries and will be joining in with Western Carolina University on quasquicentennial events throughout the year. One such event will be a promotion called "Where's Paws?"
Beginning April 26 and continuing through June 26, several Jackson County merchants are inviting local children to scour their places of business to find images of Paws. Children who spot Paws' furry face at five different participating locations and submit a form indicating where they spotted the mascot will be entered into a drawing to receive prizes. Local children also will be invited to get to meet Paws at a party later this year on the WCU campus.
Full details and more information about the 125th Anniversary at Western Carolina University can be found
online
. Dillsboro has plans for their own quasquicentennial festival in September! More details will be provided on that soon!