Cycling In Western North Carolina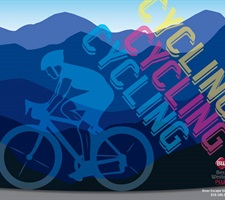 Western North Carolina is widely known as a hub for exciting outdoor adventures. Biking is a popular recreational activity because the area provides a variety of ideal locations for 'On Road' and 'Off Road' cycling, as well as mountain biking. While Western North Carolina offers a challenging terrain, it also offers cyclists scenic vistas, and a chance to commune with nature amid lush, tranquil foliage. Western North Carolina is home to some of the best mountain biking trails in the world. Each year thousands of cycling enthusiasts journey from across the country to ride our verdant landscape.
We spoke with Kathy Allison at Motion Makers Bicycle Shop in Sylva, NC about the trails in Jackson County and surrounding areas. "Part of the Greenway has just opened up and that's a really nice area. It allows people of all ages and skills levels to go ride and run along the [Tuckaseegee] River." You can access the recent expansion to the Greenway by heading toward WCU on Hwy 107, and taking a Left on to Old Cullowhee Road. Western Carolina University recently built a 6.7 mile trail system for biking and hiking, with three loops and three access points in Cullowhee, NC (9.5 miles from Best Western River Escape). Another great trail system is located at the Tsali Recreation Area in Almond, NC. "They have four great trails", noted Ms. Allison. The trails vary from 6.5 to 11 miles. While the trail is accessable for hikers daily, mountain biking and horseback riding alternate access daily; the schedule is posted at trailheads. Road cyclers will enjoy the aptly named "Ring of Fire" loop. With an elevation gain of approximately 4,700 feet, the 40 mile long trail will certainly get your blood pumping and legs burning! The trail begins and ends at the campus of Western Carolina University. Kathy called the "Ring of Fire" a "neighborhood ride" adding, "The local riders love it!"
Tourists and local riders alike are welcome to attend Motion Maker's weekly Tuesday night bike ride. The groups heads out from the shop's Sylva location towards the post office in Balsam, NC promptly at 6pm. "It's a pretty fast paced ride, but no one ever gets left behind." For more information about cycling in Western North Carolina contact Motion Makers Bicycle Shop at 828-586-6925 or visit their website at motionmakers.com.
Looking for lodging accomodations for your next cycling adventure through the Blue Ridge Mountains? Located at 248 BWI Drive in Dillsboro, NC, the nwely updated Best Western River Escape features 65 rooms, private access to the Tuckaseegee River, indoor heated pool and spa, fitness center, king bed hot tub suites, and two outdoor fire pit areas overlooking the river.
Reservations can be booked by visiting bwriverescape.com or by calling the front desk directly at 828-586-6060.
For more information about special offers and hotel amenities, follow Best Western River Escape at facebook.com/bwriverescape and on Twitter and Instagram @bwriverescape.com.