Fall in the Mountains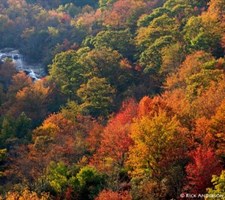 Today we wanted to take a moment and share a beautiful photo taken by photographer Rick Anderson. This shot is a great view of early Fall foliage in the mountains at Second Falls & Graveyard Fields on the Blue Ridge Parkway. This year is shaping up to be one of the best yet – and provided our weather holds out, we can expect more stunning colors each day!
If you have never experienced Fall in the mountains you are REALLY missing out! Our hotel is right in the middle of everything Western North Carolina has to offer, including countless hiking and waterfall trails. We especially love the Blue Ridge Parkway and Great Smoky Mountains National Park this time of year. The deep colors of red, orange, and yellow are breathtaking!