Local Breweries of WNC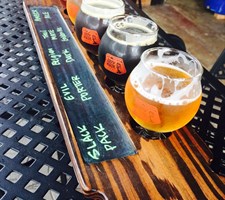 Any Western North Carolina (WNC) native can direct you to hidden hiking trails, local eateries, and the best fishing spots, but did you know that WNC natives also know where to find the most flavorful and innovative craft beers in the region?
Over the last ten years, craft brewing has become a staple in mountain towns all along the Blue Ridge Parkway. Western North Carolina is now home to more than 40 local breweries offering food, live music, scenic mountain views, and of course beer! The mountain towns of Sylva, Franklin, and Waynesville offer six unique taprooms all within a 30 minute drive of Best Western Plus River Escape Inn & Suites.
Sylva, NC Breweries
:
Innovation Brewing Company
414 Main Street, Sylva, NC 28779
(828)-586-9678
Innovation Brewing offers seasonal and year-round original beer flavors. They collaborate with Cosmic Carryout, a popular local food truck, to bring guests delicious meal options. Innovation also offers live jazz music every Thusday night.
Our Recommendations
:
If you're a lover of IPA, we suggest the Spaceman Pale Ale. Prefer a darker brew? Check out Nut Brown, an English Brown Ale style beer. A fantastic seasonal option is the Gingerbread Brown beer, the flavor is exactly the taste of a gingerbread cookie!
Sneak E Squirrel
1315 West Main Street, Sylva, NC 28779
(828)-586-6440
With cheeky titles like 'IP(A) (B) (C) (J) or (Z)' it is hard to go wrong with Sneak E Squirrel. Sneak E has a full restaurant and large seating area complete with pool tables, board games, and comfy couches. They even offer classes on home brewing fo the most devout craft beer lover! The next class series begins on October 3rd, 2016.
Our Recommendations
:
A Clockwork Zombie is a fun fruity beer. 221 Sneak E is a darker English Bitter inspired by 221 Baker Street's very own Sherlock Holmes.
Heinzelmannchen Brewery
545 Mill Street, Sylva, NC 28779
(828)-631-4466
The brainchild of German-born Dieter Kuhn and his wife Sheryl Rudd, Heinzelmannchen offers an authentic feel with unique flavors. Through a truly original collaboration with Baxley's Chocolates, a local chocolate factory located on the backside of Heinzelmannchen, guests can enjoy exceptional chocolate and beer pairings! Fans of craft beers will not want to miss their Wunderbar Wednesday deal; Traditional Growler fills in their Gnomier (1/2 Gallon) or German Growlers for only $10.00!
Our Recommendations
:
Weise Gnome Hefeweizen is a refreshingly light beer with a slight citrus taste. Their Black Forest Stout is a dark beer with a rich coffee flavor.
Franklin & Waynesville Breweries
:
Lazy Hiker Brewing Company
188 West Main Street, Franklin, NC 28734
(828)-349-BEER
Lazy Hiker is debatably the most popular brewery in the area. Their indoor/outdoor taproom, central location, collaboration with local food truck The Fork in the Road, and intimate outdoor performance area create the perfect space for WNC natives and tourists alike.
Our Recommendations
:
Slack Pack IPA packs a hoppy punch, while their Trail Mate Golden Ale is a fan favorite.
Boojum Brewing Company
50 North Main Street, Waynesville, NC 28786
(828)-246-0350
Boojum is a brewery with a separate taproom location in downtown Waynesville. The taproom has a full menu with a variety of food options. Enjoy their experimental beer flavors lounging at the bar, or bring the whole family and sit down for a meal in their dining area.
Our Recommendations
:
Graveyard Fields is a blueberry coffee beer that is unlike any other craft beer we have come across. You have to taste it to believe it.
Currahee Brewing Company
100 Lakeside Drive, Franklin, NC 28734
(828)-634-0078
A brand new brewery to the area; Currahee will soon have food provided by Mountain Fresh out of nearby Highlands, NC. Located on the Little Tennessee River, guests can enjoy outdoor seating on the water.
Our Recommendations
:
Burnington Belgium Amber provides a crisp and light ale flavor.
Wanting to tour all the breweries mentioned aboved? Best Western Plus River Escape Inn & Suites can provide all your lodging needs. Located at 248 WBI Drive in Dillsboro, NC, the newly updated Best Western River Escape features 65 rooms, private access to the Tuckaseegee River, indoor heated pool and spa, fitness center, king bed hot tub suites, and two outdoor fit pit areas overlooking the river.
Reservations can be booked by visiting bwriverescape.com or by calling the desk directly at (828)-586-6060.
For more information about special offers and hotel amenities, follow Best Western River Escape at facebook.com/bwriverescape and on Twitter and Instagram @bwriverescape.