Top 5% Quality Assurance Award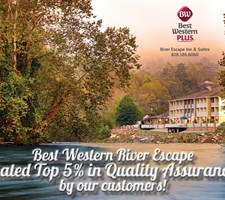 In the month of June, Best Western River Escape in Dillsboro, NC received two noteworthy accolades. The first exciting announcement came earlier last week when General Manager, Vick Patel, received notice that the property had an overall quality assurance score ranking it in the top 5% out of all Best Western hotels.
Chairman of the Board for Best Western International, L. Terry Porter congratulated Mr. Patel by saying, "On behalf of the Board of Directors and your Best Western colleagues around the world, I am pleased to recognize and honor your recent achievement of superior Quality Assurance score."
In addition, Mr. Porter notified the hotel that they were being honored with The Best Western Chairman's Award for outstanding quality standards; the most prestigious award a Best Western property can earn. This honor represents the commitment, hard work and attention to detail displayed by the BW River Escape staff at all levels of service. "Receiving the Chairman's Award for Best Western is a tremendous honor," explains Season Vandunk, Front Desk Manager. "This award demonstrated our team's commitment to providing quality accommodations for our guests. Our front desk, housekeepers, and maintenance departments have worked hard to achieve this level of excellence."
The award has been facilitated on the basis of cleanliness and maintenance inspection, where Best Western River Escape scored 1,000 points out of a possible 1,000. In order to quality for this award, a hotel must first meet Best Western International's requirements for design and high customer service. Mr. Patel noted that the hotel had recently undergone an extensive renovation with all new carpet, bedding, lighting, electronics, and furniture in the lobby and guest rooms. "We strive to keep up with industry standards to give each guest the most enjoyable experience possible."
Located at 248 BWI Drive in Dillsboro, NC, the newly updated Best Western River Escape features 65 rooms, private access to the Tuckasegee River, indoor heated pool and spa, fitness center, king bed hot tub suites, and two outdoor fire pit areas overlooking the river.
Reservations can be booked by visiting bwriverescape.com or by calling the front desk directly at 828-586-6060. For more information about special offers and hotel amenities, follow Best Western River Escape on facebook.com/bwriverescape and on Twitter and Instagram @bwriverescape.