Reflecting on 2011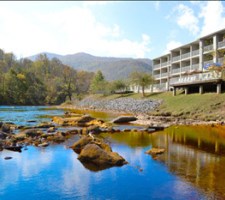 The new year has been a fabulous one for us so far! At the beginning of each year we find time to reflect on the previous year and how absolutely thankful we are for the amazing people we have met along the way. Our business has remained steady, even in a down economy. For this – we thank you. It is our pleasure to be your personal riverside escape!
We are constantly looking for ways to improve our hotel, customize your guest experience, and ensure you will return in the future. If you ever have any suggestions or ideas, please let us know! By taking feedback to heart and making appropriate changes we will continue to be a top notch hotel.
There is always so much going on the mountains of Western North Carolina. We are thrilled to be able to share our little piece of serenity overlooking the river. We know you have a choice when making reservations and we're delighted that you choose us.