The River is Calling... Fly Fishers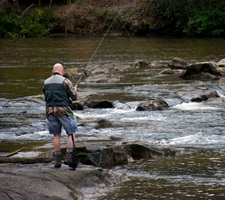 In 2016 Jackson County was proclaimed by the N.C. General Assembly as the state's "Premier Fly Fishing Destination". The county is now known as the NC Trout Capital, being the home of the Western North Carolina Fly Fishing Trail. It is the nation's first and only fly fishing trail which highlights four rivers more than eleven creeks offering a wide variety of fishing experiences. Best Western Plus River Escape Inn & Suites overlooks the popular Tuckasegee River providing the ideal home base for exploring.
In celebration of the new NC Trout Captal distinction the Jackson County CHamber of Commerce is presenting the inagural Hook, Line and Drink Festival on Satuday, May 20, 2017. There will be craft beer vendors, food trucks, fishing guides and industry vendors, and even a farmer's market in the morning. Live musical entertainment will be featured from 12:30pm to 4:00pm to round a beatufiul spring day in the mountains.
Are you ready to pack your bags and take a trip to the mountains for an unforgettable fly-fishing experience? Make sure to book with Best Western Plus River Escape Inn & Suites in Dillsboro for a memorable trip. The hotel partners with outfitter Hooker's Fly Shop in downtown Sylva to provide exclusive fly fishing packages for half day or full day excursions. Our river walk allows you to cast right outside of the hotel for morning practice and leisure. For more information contact Guest Services at (828)-586-6060.
The Western North Carolina Fly Fishing Trail is a map giving precise stream locations, access points, information on parking, type of fishing, and length of the streams. The maps are printed on durable, water-reistant stock, easily put into your fishing vest while you're out on the water. To request a free copy of the map you may visit the Jackson County Chamber of Commerce online at www.mountainlovers.com or by calling (828)-586-2155.
The River is Calling!