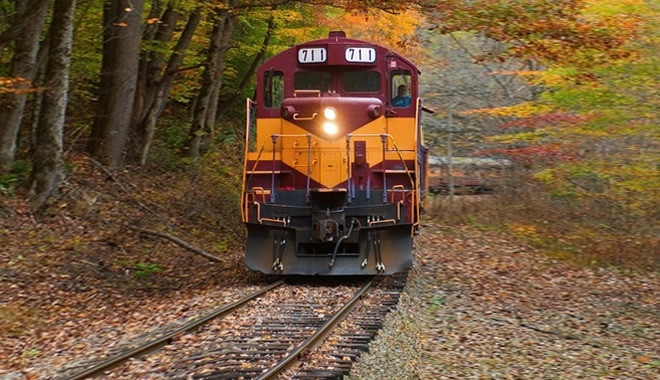 Great Smoky Mountains Railroad
With 53 miles of track, two tunnels and 25 bridges, the Great Smoky Mountains Railroad is a favorite attraction in the Western North Carolina mountains. Come aboard to enjoy a memorable journey into river gorges, across valleys, and through historic tunnels carved out of mountains. Choose from one of two half-day excursions, both including a layover. Seasonal excursions take place throughout the year and include Great American Rails-n-Tales, BBQ & Brews, PEANUTS™ The Easter Beagle Express, PEANUTS™ The Great Pumpkin Patch Express, and POLAR EXPRESS™.

Nantahala Gorge Excursion
Departing from Bryson City, this 4½-hour excursion carries you 44 miles to the Nantahala Gorge and back again. Enjoy Bluegrass music and Appalachian stories while traveling along the Tennessee and Nantahala Rivers. The historic Trellis Bridge takes you across Fontana Lake and into the beautiful Nantahala Gorge. Arrive at the Nantahala Outdoor Center (NOC) for a one-hour layover where you can relax by the river.
This relaxing ride through quiet countryside in western North Carolina departs from Bryson City for a 4-hour excursion. The 32-mile round-trip takes you too Dillsboro and back again, passing through the famous Cowee Tunnel. Film buffs should also look out for the trainwreck from the The Fugitive, starring Harrison Ford. The trip includes an hour-and-a-half layover in the historic town of Dillsboro, for shopping and snacking before returning to Bryson City.

Flora, Fauna, & Film
As you ride through the mountains, keep your eyes open for more than 125 varieties of trees, 1,000 species of flowering plants, 200 types of birds, and more than 100 species of fish and animals. In addition to serving as a mobile nature conservancy, the railroad also has shaped pop culture with appearances in films such as The Fugitive, My Fellow Americans, and Forces of Nature.
Learn more about the Great Smoky Mountains Railroad
.