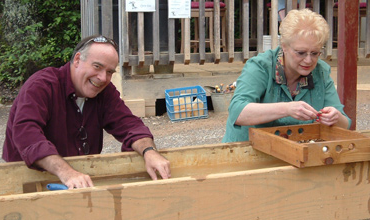 Gem Mining
Gem mining has been a favorite activity for visitors to the Blue Ridge Mountains of North Carolina for years. Most gem mines in the Asheville and Franklin area are open from spring through autumn.
What To Bring To The Mines
Bring ziploc bags or a plastic butter dish to take your stones home in (no glass). Rubber gloves are handy if it's chilly or you have a nice manicure. And a hat and some sunblock if it's sunny, although many mines provide cover on the "flume". Wear old clothes and tennis shoes or boots and bring a plastic bag to put your muddy shoes in and an extra pair to wear in the car. Bring a picnic lunch since most mines provide a place to eat outside.
Most mines sell gem dirt in a bucket or bag (few allow digging). You are provided with a screen for washing and there is a flume - a trough of running water - with a bench along it's length. The dirt goes in the screen, the screen goes in the water and the mud is washed away. Mine operators are on hand to help with technique and identification.
What To Look For At The Mines
The "3 c's" of gem mining are Color, Clarity and Crystals. Gemstones come in every color from white to black. Garnets are glassy red , pink or reddish brown. Rubies are silky red, sapphires are every other color, and both have a crystal formation with 6 sides. Moonstones are pearly white to gray and peach to chocolate brown with a flat box-like shape. Quartz comes in many forms, sometimes clear colors like Amethyst and Citrine, sometimes opaque colors with mica flecks like Aventurine and of course clear with sides - quartz crystals.


Gem Mines Near Asheville
Emerald Village: This fascinating group of gem, mining, and historical attractions is nestled deep in the Blue Ridge Mountains, just off the Blue Ridge Parkway in Little Switzerland, within an hour's drive of Asheville. Located in a spectacular mountain setting, Emerald Village is home to seven real mines and has been featured on The Travel Channel. Many exhibits are free to enjoy. It's open April through December.
See our Emerald Village Guide.
Old Pressley Sapphire Mine: Located in Haywood County, near Canton, the Old Pressley Mine is one of the oldest operating mines in western North Carolina. Made famous by the discovery of the 1445-carat "Star of the Carolinas," the mine contains abundant quantities of minerals and Sapphires. About 20 miles west of Asheville.
Go to their Web site.
Elijah Mountain Gem Mine: Located in Hendersonville, mine for gems that include Rubys, Sapphires, Emeralds, Quartz crystals, Citrine, Amethyst, Garnets, Adventurine, Sodalite, Opal, Fluorite, Aquamarine and many more. The flumes are covered for your comfort and for rain or shine mining.
Go to their Web site.
Gem Mountain: Find lots of local materials such as Crabtree emerald, Wiseman and Brushy Creek aquamarine, as well as moonstones, garnet, citrine, amethyst, ruby, sapphire and others brought fresh to the mine daily. Gem Mountain is located on Highway 226 between Spruce Pine and the Blue Ridge Parkway, about an hour north of Asheville.
Go to their Web site.
Gem Mines near Franklin, North Carolina
Gem Capital of the World: Franklin, North Carolina is located about 65 miles west of Asheville. There are bunches of gem mines to choose from. Download a PDF Map of Franklin Gem Mines.
Cherokee Ruby & Sapphire Mine: Come enjoy the fresh mountain air, natural creek water running through the flume line and the scenic beauty of Cowee Valley. Their mine is not "salted" or "enriched" and contains only native North Carolina gemstones, including Rubies, Sapphires, Garnets, Moonstones, Rhodolite, Rutile and Sillimanite. These gems occur naturally in the Cowee Valley and are not as plentiful as in "salted" mines, but are much more valuable and many are "facet quality".
Go to their Web site.
Gem Mine at Gem World: Colorful gems in every bucket! All equipment provided. Assistance to identify gems; custom gemstone cutting; gemologist on premises. Gem dirt to go! Opal buckets available. Gift & Rock Shop.
Go to their Web site.
Gold City Gem Mine: Home of the 1061 carat sapphire found at Gold City. Native and Enriched Gemstones buckets. They also have Gold Panning. New and Improved large covered flume for Gem Mining rain or shine. New inside heated flume for cold days.
Go to their Web site.
Rose Creek Mine: They have rubies, sapphires, garnets, emeralds and so much more. They also have special buckets, gem kits, lapidary supplies, jewelry, Opals and a world class collection of minerals.
Go to their Web site.